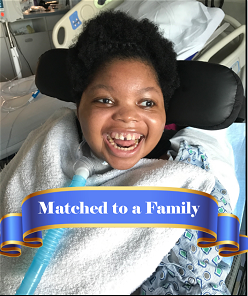 Born in 2003
Mike'al is a medically fragile child and has been in custody since 2003. She requires all care and needs to be met for her due to her illness. She communicates with facial expressions and hand movements. When she smiles it lights up the room. Mike'al receives in-home instruction for schooling and continues to surprise everyone with how strong she is. Mike'al requires a family who has medical training and lots of love to give.
Preferred family will not have more than one other medical needs child.
For more information, please contact Sarah Pinciaro at MCCSB at (330) 941-8888 or sarah.pinciaro@jfs.ohio.gov.