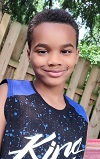 Meet Larry!
Larry was born 12/24/2011.
He is a special needs child with lots of energy and lot of love to give. He loves hugs and positive reinforcement. He is verbal and can tell you his wants and needs and does best in a structured setting. Larry will take you and lead you by the hand if he feels he needs to show you what he wants.
He loves to help and is very interested in learning new things. Larry enjoys jumping on the trampoline with friends and playing on his tablet. He enjoys being outside and being active and does well both alone or with other children.
He needs a family that can show him patience and give him the attention and acceptance he needs to grow. Larry should be with a family who has experience with developmental delays and Autism or is willing to learn.
For more information, please contact Melissa Scullen at MCCSB:
Phone: 330.941.8888 | Email: Melissa.Scullen@jfs.ohio.gov.